Media Coverage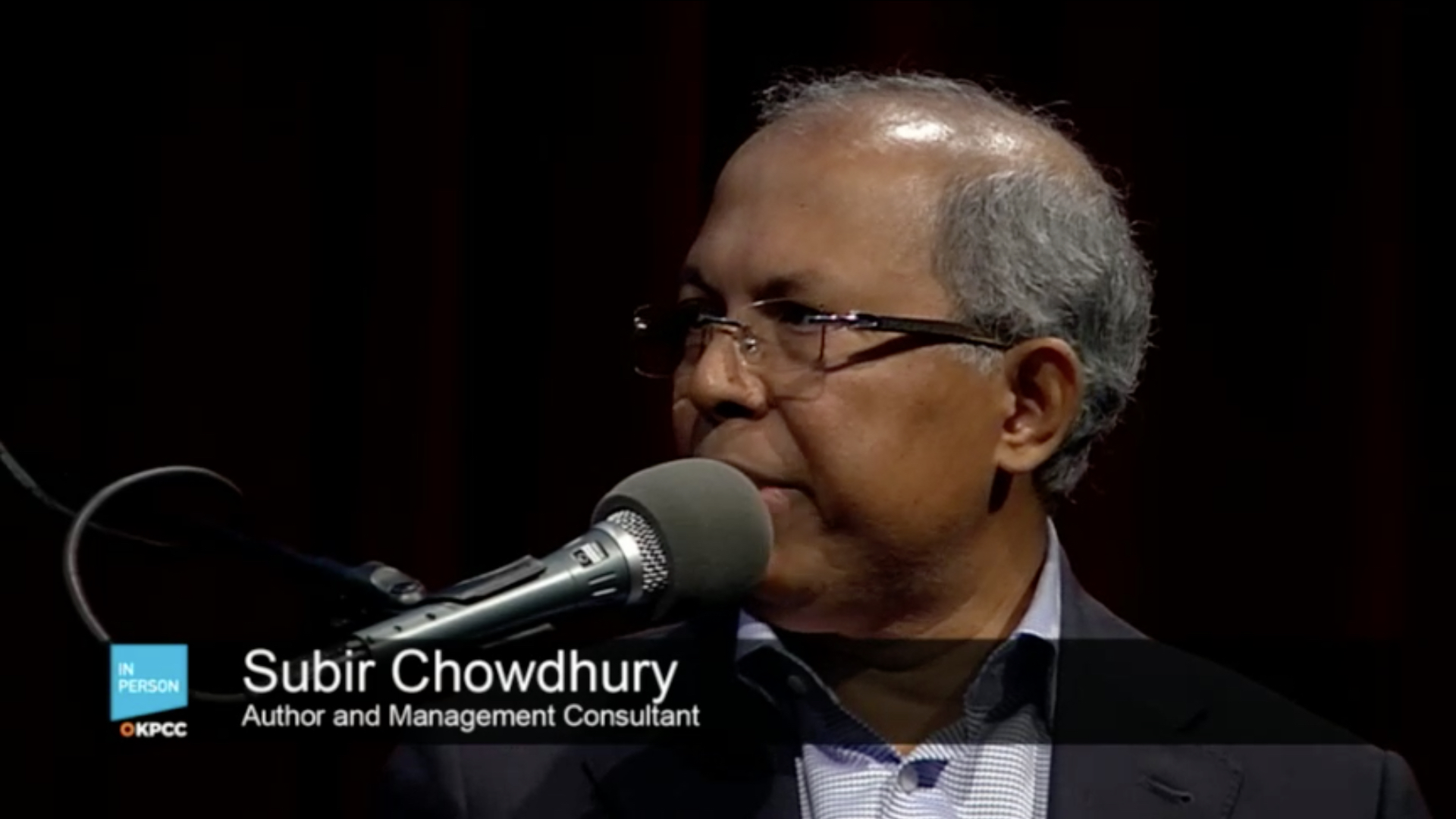 Subir Chowdhury is a prolific writer and world-renowned author on the subject of quality, leadership, strategy and methods has authored hundreds of articles and delivered numerous presentations throughout his career. He has written 15 books – many of them international best-sellers: The Power of Six Sigma, The Ice Cream Maker – and his latest book – "The Difference: When Good Enough Isn't Enough" – has generated international attention for its simplicity and power to excite action. Subir was also recently honored to be ranked among world's top 50 thinkers for the year 2017 by Thinkers50 – a global ranking of management thinkers published every two years.
Recent Media Coverage
Here are links to the fabulous press coverage that Subir's has received:
Prothom Alo, Weekend Edition: Quality-guru Subir Chowdhury: From Chittagong to America – LINK
A profile by Anisul Haque
The Times of India: IITKgp Alumnus Subir Chowdhury Among World's Top 50 Thinkers in 2017 – LINK
KPCC: Culture Shift: How to take a company from good to great – LINK
Presented by Ben Bergman
Huffington Post: How to use 'STAR' to make your team care again – LINK
Book Review
Forbes: How to bring back a caring mindset at work – LINK
Book Review, Kevin Kruse
International Business Times, India: Book Review: The Difference – The caring mindset and other keys to quality at work, and in life – LINK
Book Review, Prashanth GN
Press Trust of India: Book Review: STAR Culture can change fortunes of companies – LINK
Hamilton Spectator: Book Review: Size Doesn't Matter, but Caring Does – LINK
Book Review, Jay Robb
Business Today, India: STAR may usher in 'true' quality in corporate India – LINK
Editorial, Anilesh Mahajan
Investor's Daily News: Accentuate the positive by focusing on the possibilities – LINK
Leaders & Successes, Michael Mink
Yentha.com: Top Ten Books The Week – LINK
Jefferson Public Radio: Book Review: What Makes 'The Difference' In A Thriving Organization? – LINK
Book Review, Geoffrey Riley, Emily Cureton
Entrepreneur: 5 Keys to Promoting Accountability in Your Business – LINK
Editorial, Martin Zwilling
Seeking Alpha: Book Review: The Difference – LINK
Book Review, David Merkel
Times of India: New IIT-Khargpur school to focus on quality check – LINK
News, Jhimli Mukherjee Pandeyl
Smiley Pete Publishing: Book Review: Creating success through a caring mindset – LINK
Book Review, Paul Sanders
Subir has been hailed by the New York Times as the "leading quality expert" and by Business Week as "The Quality Prophet."  Over the course of his entire professional career, Chowdhury has been able to adeptly shape and direct the strategic thinking about "Quality" to senior executives, managers, engineers as well as other technical and non-technical personnel in companies large and small throughout the world. In addition, he has taken the subject of "Quality" and packaged and promoted it in such a way as to make it come alive, and be both available and useful for "all the people, all the time."  The Conference Board Review described Chowdhury as "an excitable, enthusiastic evangelist for quality."
Under his leadership, and using his ability to influence, teach and coach, he has managed to educate and guide his vast array of clients to embrace and implement quality methodologies such as QS-9000, Six Sigma, Design for Six Sigma, Robust Engineering, and LEO (Listen-Enrich-Optimize) to achieve significant improvements throughout their organizations.  Many of the world's leading organizations have embraced his approach to Quality and have been able to bring their products and services to market at a more rapid pace and have been able to design products and services with problem prevention as a guiding premise.  In addition, using his teaching and methodologies, these organizations have been able to ensure the highest degree of quality at delivery; discovered solutions to problems that have saved millions and even billions of dollars, and, ultimately contributed to product and process innovation leading to increased revenue, market share and customer loyalty and satisfaction.
Media Coverage:
"The Quality Prophet" —    Business Week
"Leading Quality Expert" —  The New York Times
"Voices of Quality in the 21st Century." —  American Society for Quality, Quality Progress
"In 115 jargon-free pages, Chowdhury boils down most of the wisdom of modern management theory and practice that is equally relevant to chief executive and front-line clerk." —  The Washington Post
"The Ice Cream Maker becoming a kind of Detroit Bible, at once raising our expectations and our self-confidence."  —  The Detroit News
"Organization 21C by Chowdhury: Get your organization on track for the new millennium." — Working Knowledge, Harvard Business School
"Throughout The Power of LEO runs the undercurrent of 'The Quality Mindset', which focuses on people quality, and the author stresses from the beginning that the American leadership in innovation can better benefit our organizations and economy if we focus on quality in everything we do." —800CEORead.com
"It doesn't take long for you to see that this isn't just another business book on improving processes; it also applies to everyone on a personal level." — Qualitydigest.com
"He is an excitable, enthusiastic evangelist for quality —  and not only for improving processes and methodologies but for taking quality to heart." —    The Conference Board Review
"This brief but timely volume provides much-needed advice and insight into improving quality in American business practices." —    Library Journal
"The best books on Six Sigma" —    CIO Magazine (selected by CIO magazine's TOP 100 honorees)
"Subir Chowdhury is one of the best of the 'new age' of organizational consultants. He has done a fantastic job of explaining a powerful concept in a simple and entertaining way." —    Financial Times Knowledge Dialogue
"Management 21C is the Most Important Management Book of 1999." — Future Forum, The Dutch Top Conference on Economic Change and Business Strategy